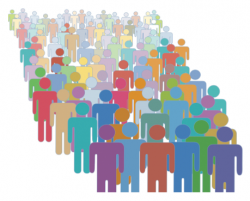 As we focus on the affordability of healthcare, some turn to high deductible health plans (HDHPs) to lower costs and as a result, creating situations where consumers are at greater risk for the cost of their care. The theory is that if I must pay out of pocket, I will be more discriminating concerning my purchases and shop for the best deal.
Unfortunately, this hypothesis has fallen short for many reasons, and in fact, studies have found can lead to increased health disparities. Since HDHPs are less expensive, they tend to be used by those in lower-income brackets and the Black and Hispanic populations. With the coupling of HDHPs and health savings accounts (HSAs), there is an implication that the funding of such accounts will offset the higher deductibles.  However, those that are at the highest risk for financial insecurity are frequently those that are unable to fund such accounts.
Theoretically, this system should create an incentive for preventive care and a focus on wellness; however, the same social determinants that lead to an inability to afford such methods prevent one from seeking such services and impede one's focus on their health and well-being. Additionally, even with conscious prevention, one cannot fully anticipate all one's needs.
Self-insuring against such costs and implementing activities that lower individual risk intuitively makes sense, but ultimately falls short of the desired results. A recent article in Health Affairs by Ellison et al., Racial/Ethnic and Income-Based Disparities in Health Savings Account Participation Among Privately Insured, emphasizes that Black, Hispanic, and Low-Income Enrollees were significantly less likely than their White and High-Income counterparts to participate in HSAs. And, even worse, these gaps increased over time, worsening health disparities. Therefore, the financial protective effect of HSAs towards unforeseen high deductibles does not protect those that are most vulnerable and likely to use HDHPs.
Mitigation of such situations is multiple. If HSAs are the ideal manner to avoid health-related financial crises, focusing on funding such accounts become paramount. A safety net model would suggest a funding pool for certain HDHP participants that might offset the lack of funding. Such a program might be done in a matching fashion like a matching 401K ensuring the participant is committed by having "skin in the game."
Additionally, it may be beneficial to "award" certain preventative services with funding. These services would need to be easy to access, and participants would need to be activated to use them. Lastly, increasing the limits on HSAs, and making sure they can carry year-over-year and are portable over time will also allow for a preponderance of self-insured dollars to accumulate.
Regardless of the value-based payment models and cost containment strategies implemented, focusing on the unintended consequences to those that are most vulnerable is paramount to decrease health inequities. Let us proactively contemplate these issues and solve them in a manner that optimizes cost containment while simultaneously considering those social determinants that we know impact health and wellness.